3d Printers Large Printing Size Dual Extruder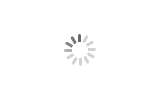 3d Printers Large Printing Size Dual Extruder
Dowell

China, Luoyang

7 days

100 set/month
Luoyang Dowell electronics technology Co., Ltd have the most professional R&D team and the reliable after-sales service team.
Dowell 3

D Large FDM Industrial 3d printer machine DM Series

fdm 3d printer large scale 3d printer industrial 3d printer 3d printer machine




Start printing in various engineering materials (PA, PA-CF, PC, ABS,PBT, PP, PMMA ) with a large build volume 3d printer.




Your industrial applications deserve unmatched accuracy, high-quality industrial-grade parts, and the possibility to iterate faster.




With a simple setup and intuitive operation, the Dowell 3d printer is a great solution. intelligent features like filament jam & absence warning, and power failure recovery will make your printing experience smoother and more pleasant.




Whether you are working in aerospace, automotive, power & energy, or any other industry requiring high-performance parts, this printer unlocks infinite possibilities that extend well beyond prototyping.



Product Description

Model

Dowell 3d DM Series Printer

Printing size

Standard Size 600*600*600 to 1950*1200*1600mm

Frame

40mm aluminum section

Movement of XY axis

High precision linear rail

Movement of bed

4 X screw rods & 4 X roller rods

Printing bed

6mm tempered glass

Bed temperature

0-100℃ (optional 150℃ )

Nozzle size

0.4, 0.6, 0.8, 1.0mm

Nozzle temperature

0-420℃

Positional accuracy

0.02mm

Layer accuracy

0.04-0.6mm

Slicing software

Dowell3d / Cura / or other similar software

Input format

STL/OBJ/Gcode/JPG

Filament diameter

1.75mm

Connection

U disk/SD Card

Standard functions

3D/BL toch auto leveling, filament sensor, auto resume from power off,

auto power off,

nozzle anti-collision

Customization Options

1. Medium extrusion flow rate extruder


3. Dual feeder one nozzle

4. Linux operating system

6. Constant temperature enclosure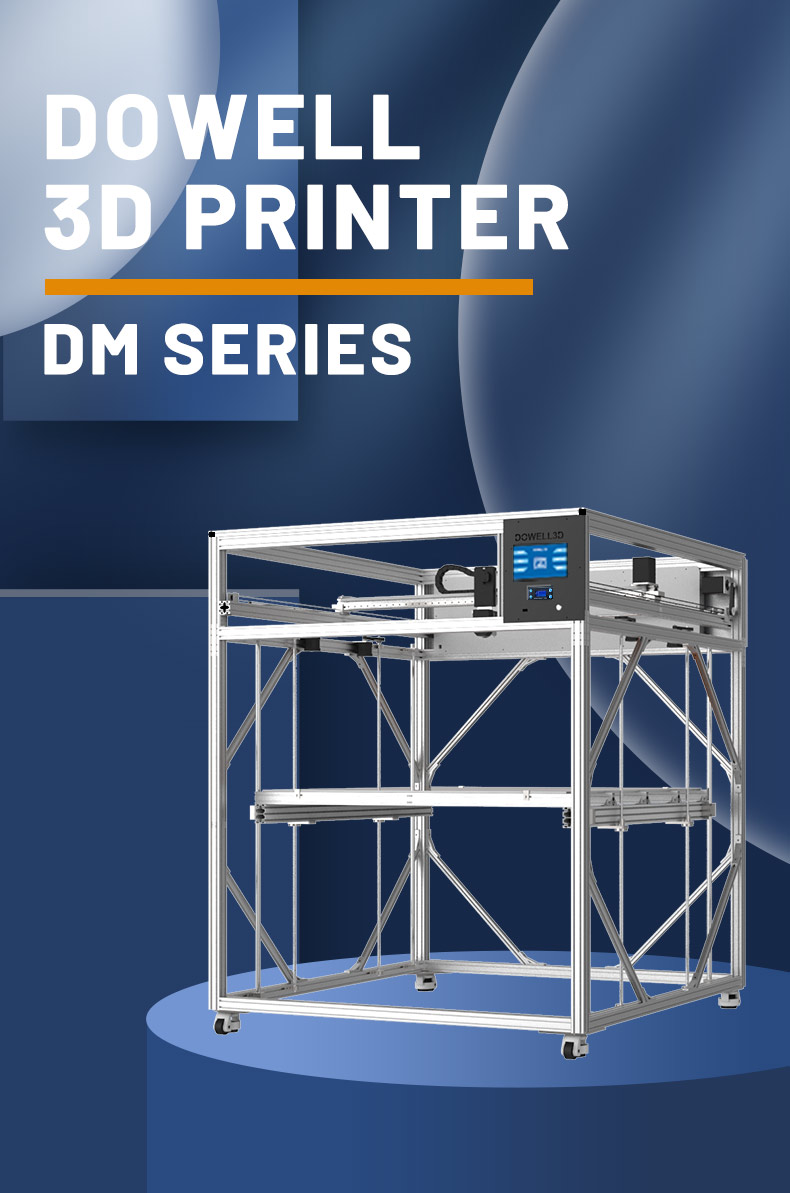 Strong aluminium profile structure, printing more stable.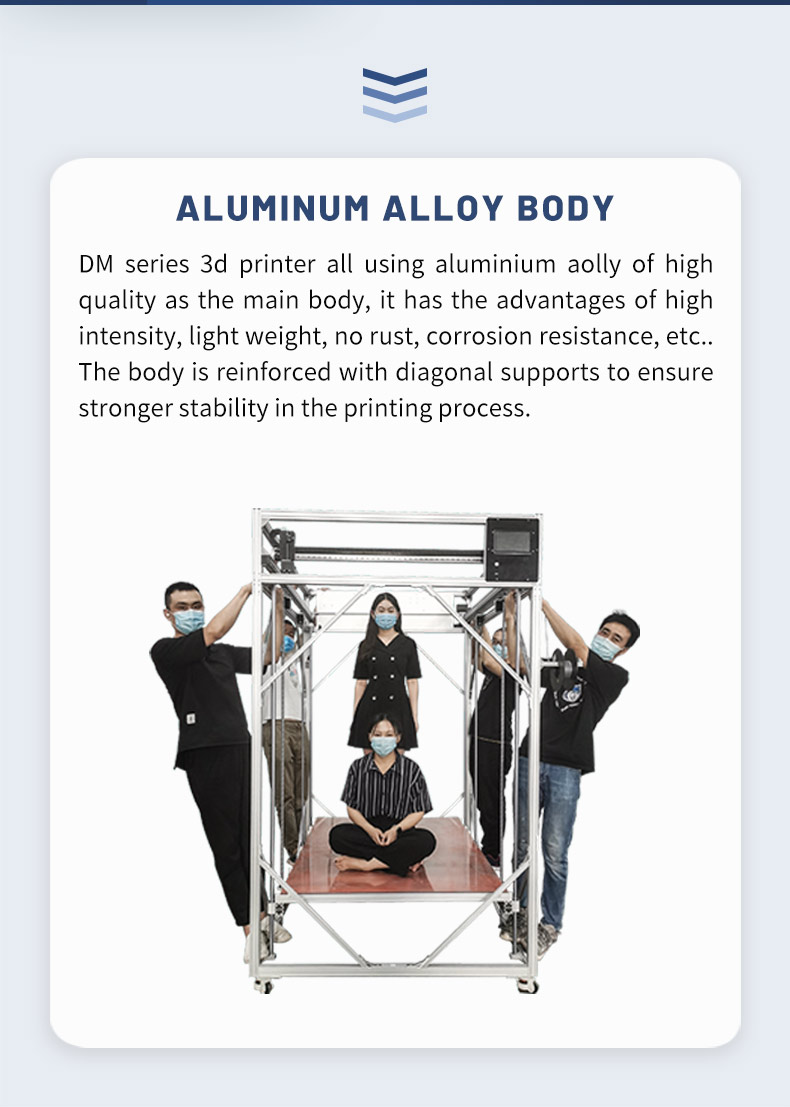 420°c High temperature nozzle, more filament printable.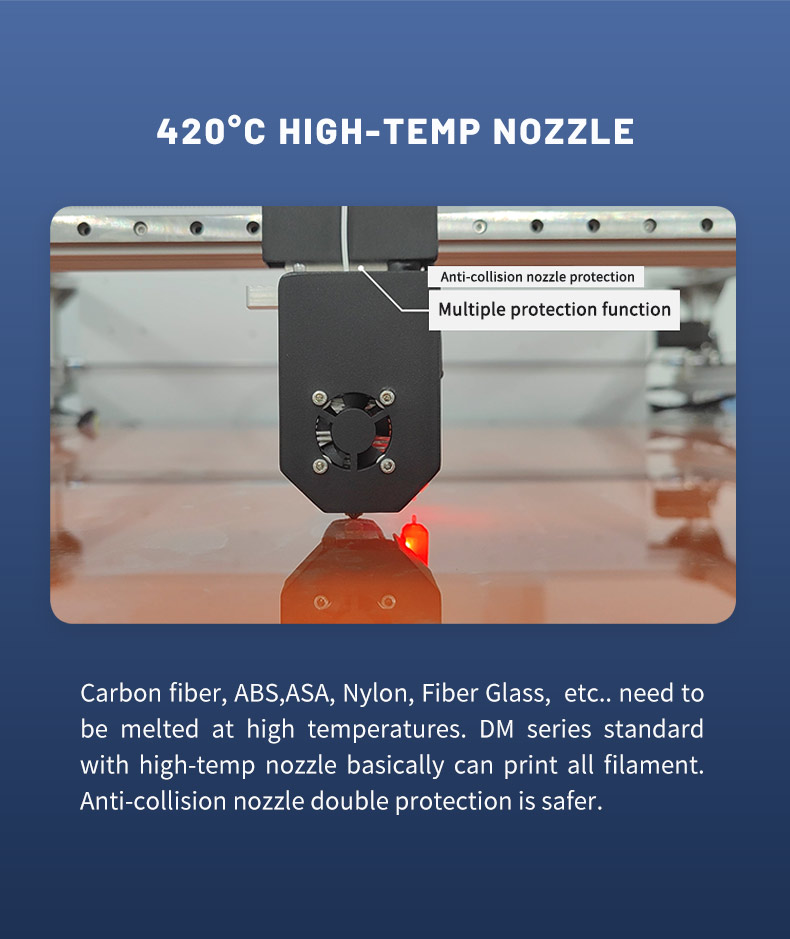 6mm tempered glass platform
Whole bed heated by silicon rubber heater evenly, precise control temperature 0-100 degrees.
Super load capacity more than hundreds kilograms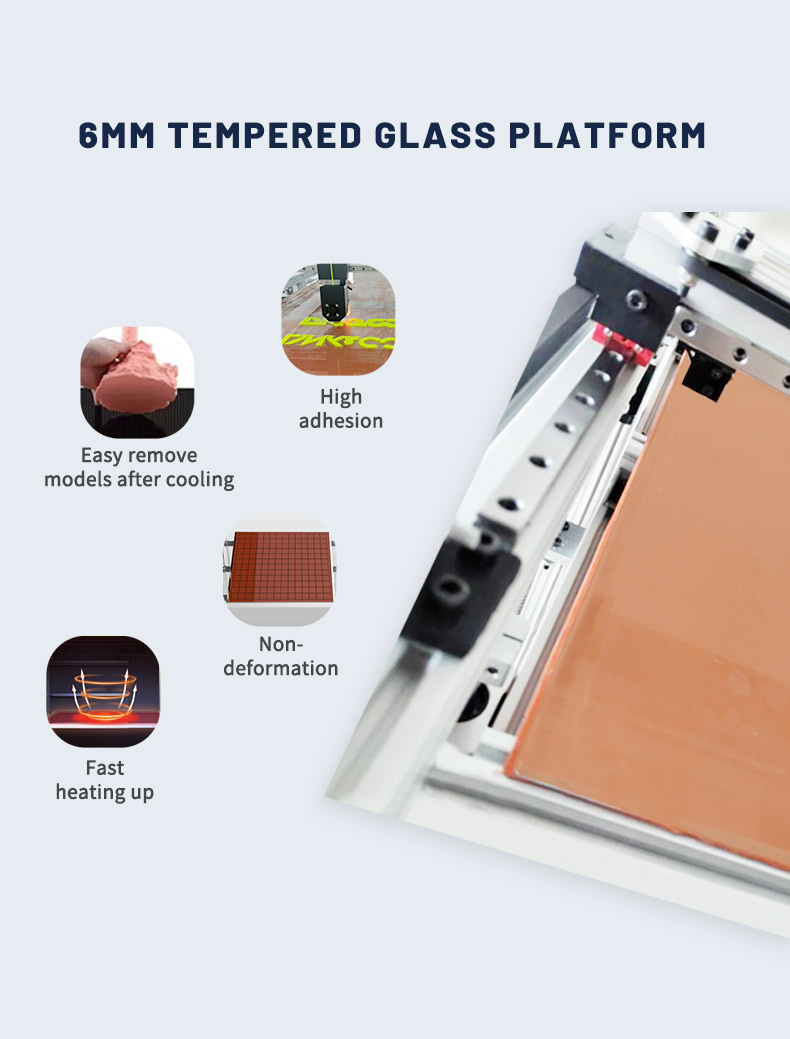 fdm 3d printer large scale 3d printer industrial 3d printer 3d printer machine
7 inch touch screen which is conveniet to operate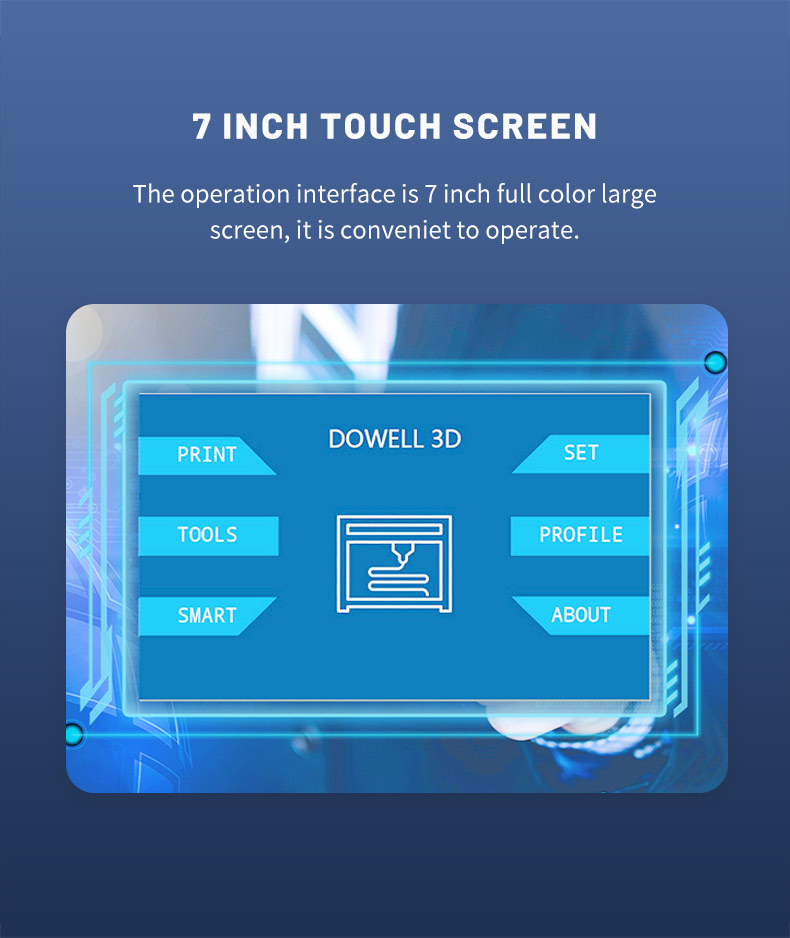 FDM 3D PRINTER LARGE SIZE 3D PRINTING MACHINE INDUSTRIAL 1000MM 3D PRINTER
One key auto leveling help you easy operate
1. First, 4 corners auto-level independently.
2. Then 8*8=64 points on the whole bed

automatic detection platform flatness. Through the independent 4 screw automatic adjustment to achieve the true automatic leveling.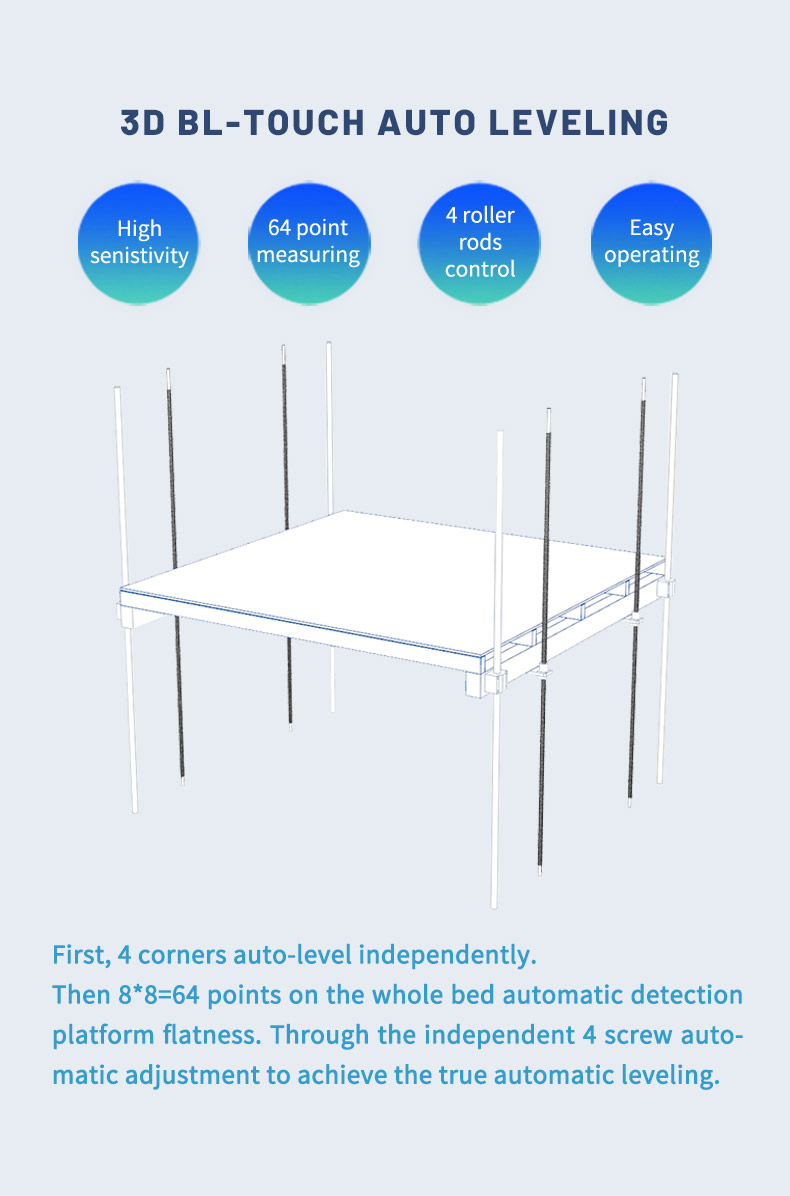 Industrial heavy duty caster wheel, Easy move.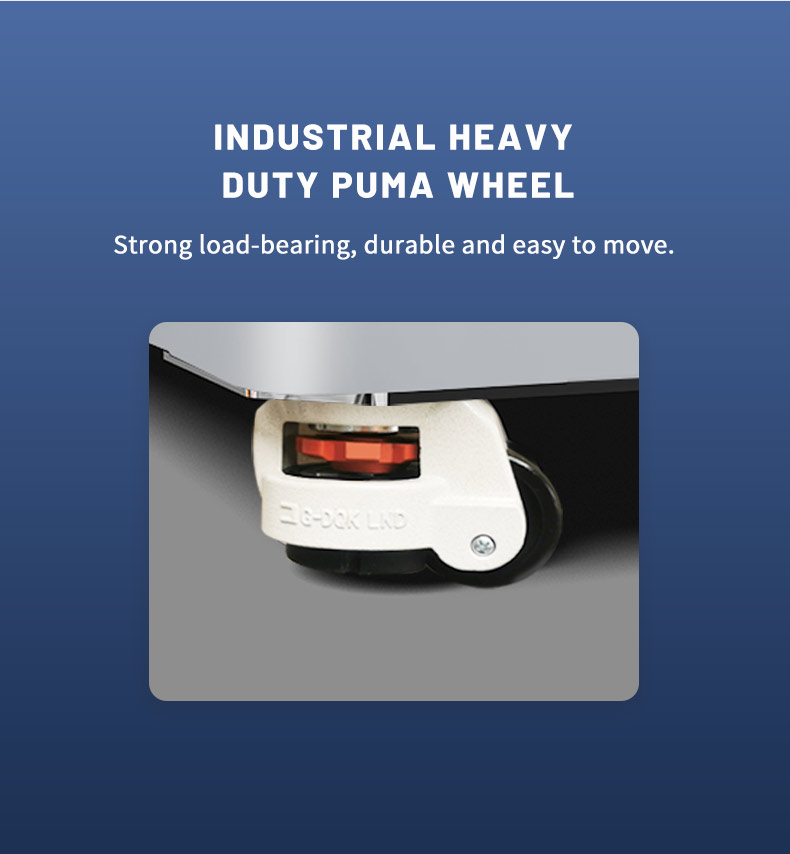 Tank chain & flexible wire
Using tank chain with special super flexible wire, the wires can withstand ten million times of bending.
The wires are neat and beautiful, stable and durable!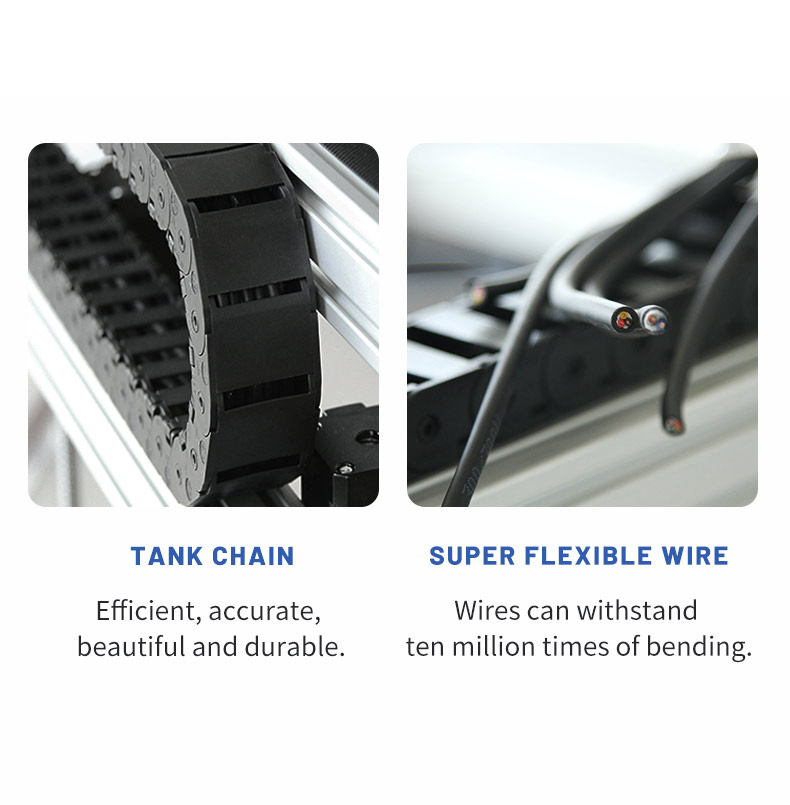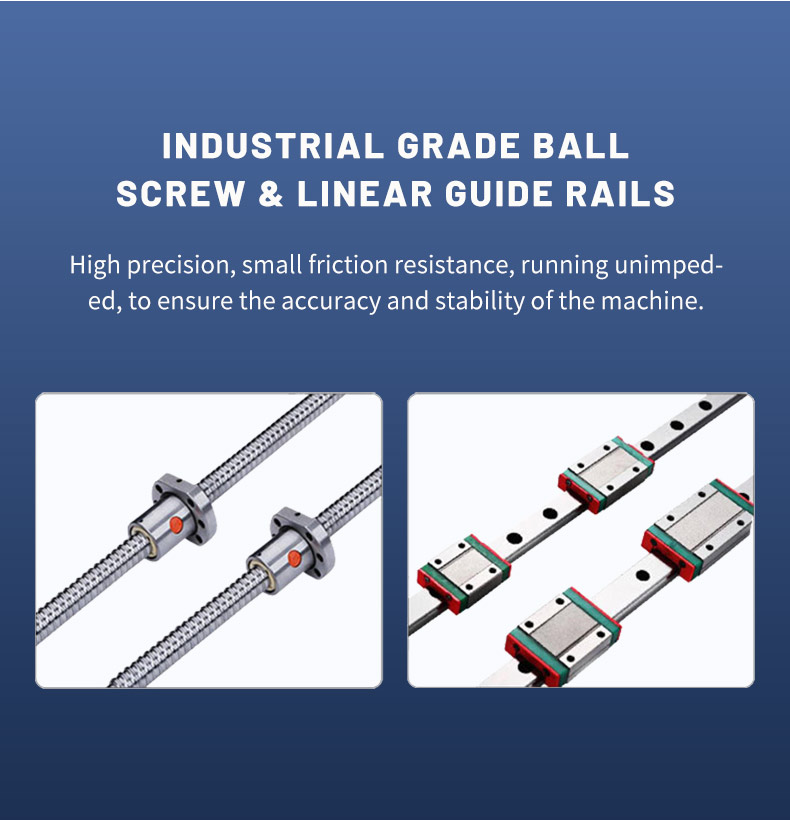 Tempered platform & high-temperature bed

Silicon rubber heater, the whole bed is heated evenly.
The highest temperature can up to 100℃(optioal 150℃).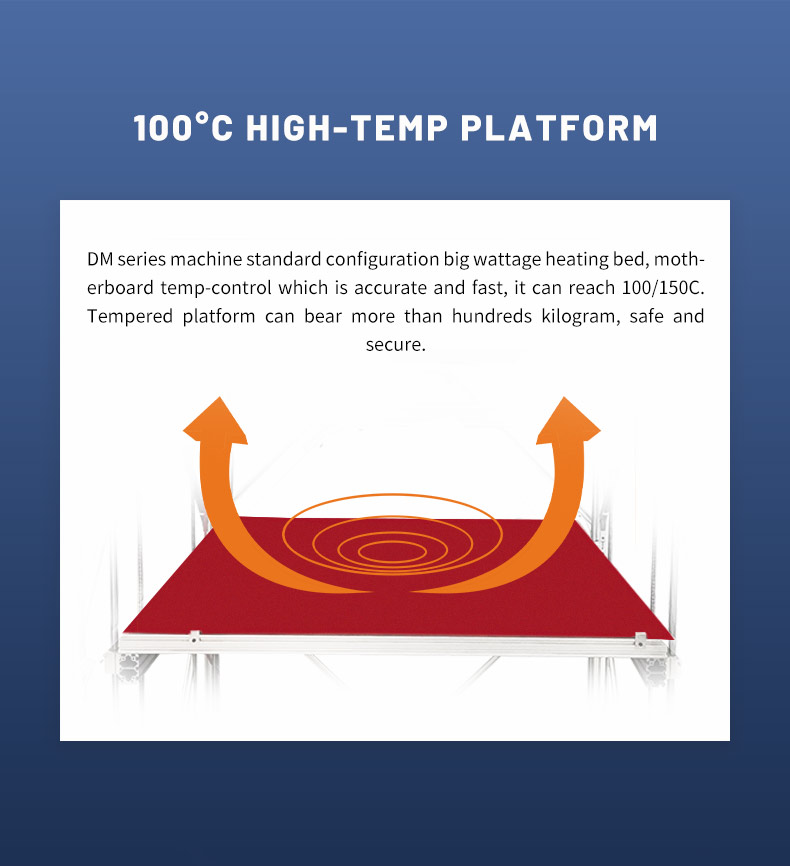 fdm 3d printer large scale 3d printer industrial 3d printer 3d printer machine
Smart Filament sensor Auto warning if filament runs out or break.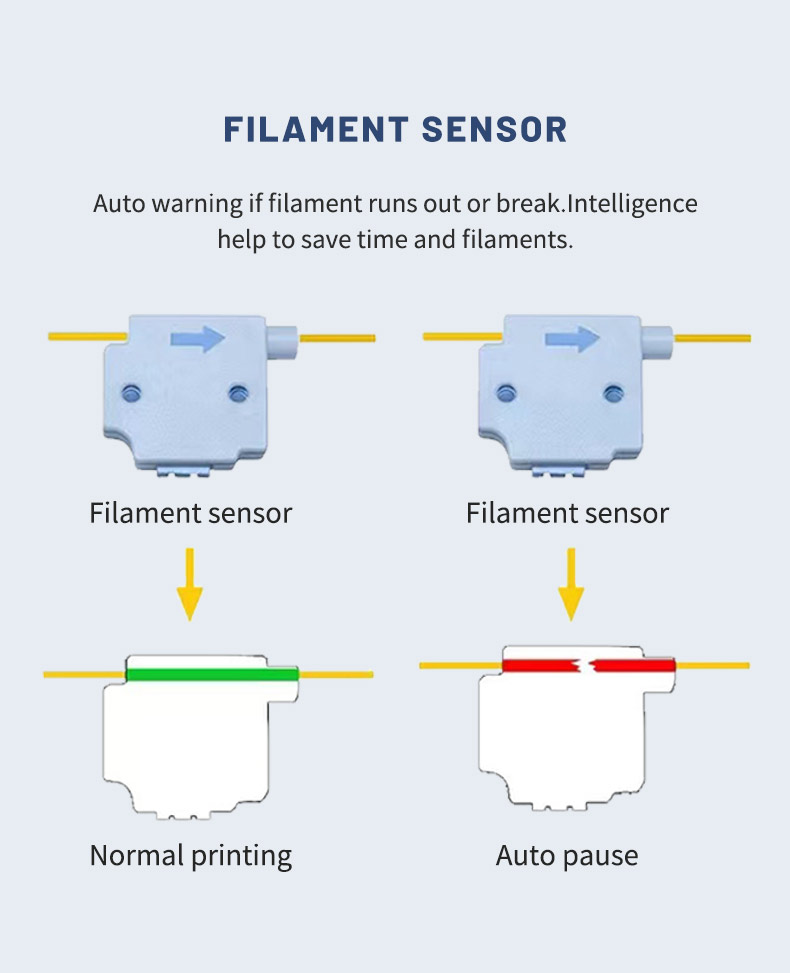 We also provide customization options
A: Higher flow extruder
B: Constant temp enclosure
C: Pellet extruder
D: Dual feeder one nozzle
E: Dual extruder
F: Module movement
G: Printing size
H: Linux System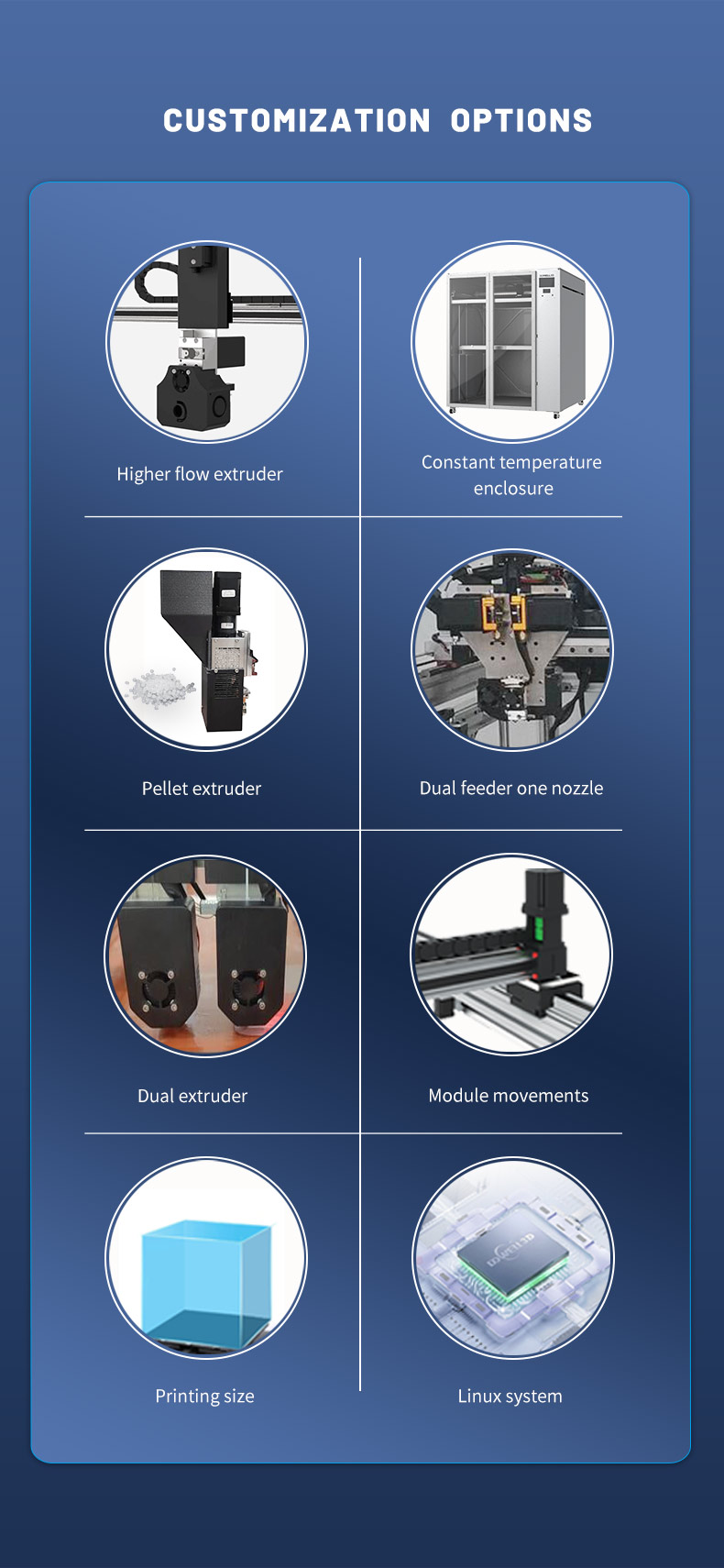 A variety of printing sizes are available, we also provide customization options.
Contact us create your own 3d printer.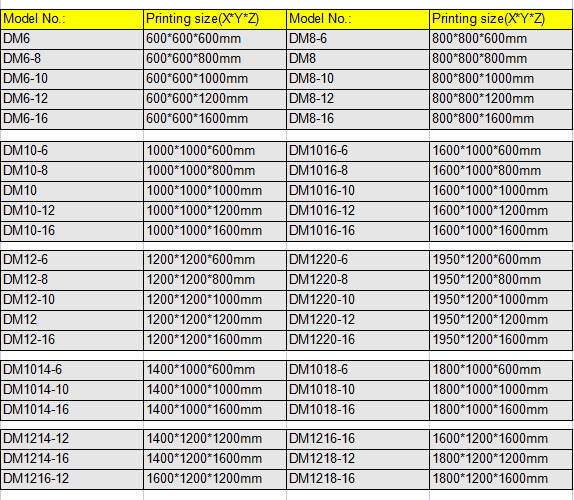 fdm 3d printer large scale 3d printer industrial 3d printer 3d printer machine
Customer cases printed by Dowell 3d printer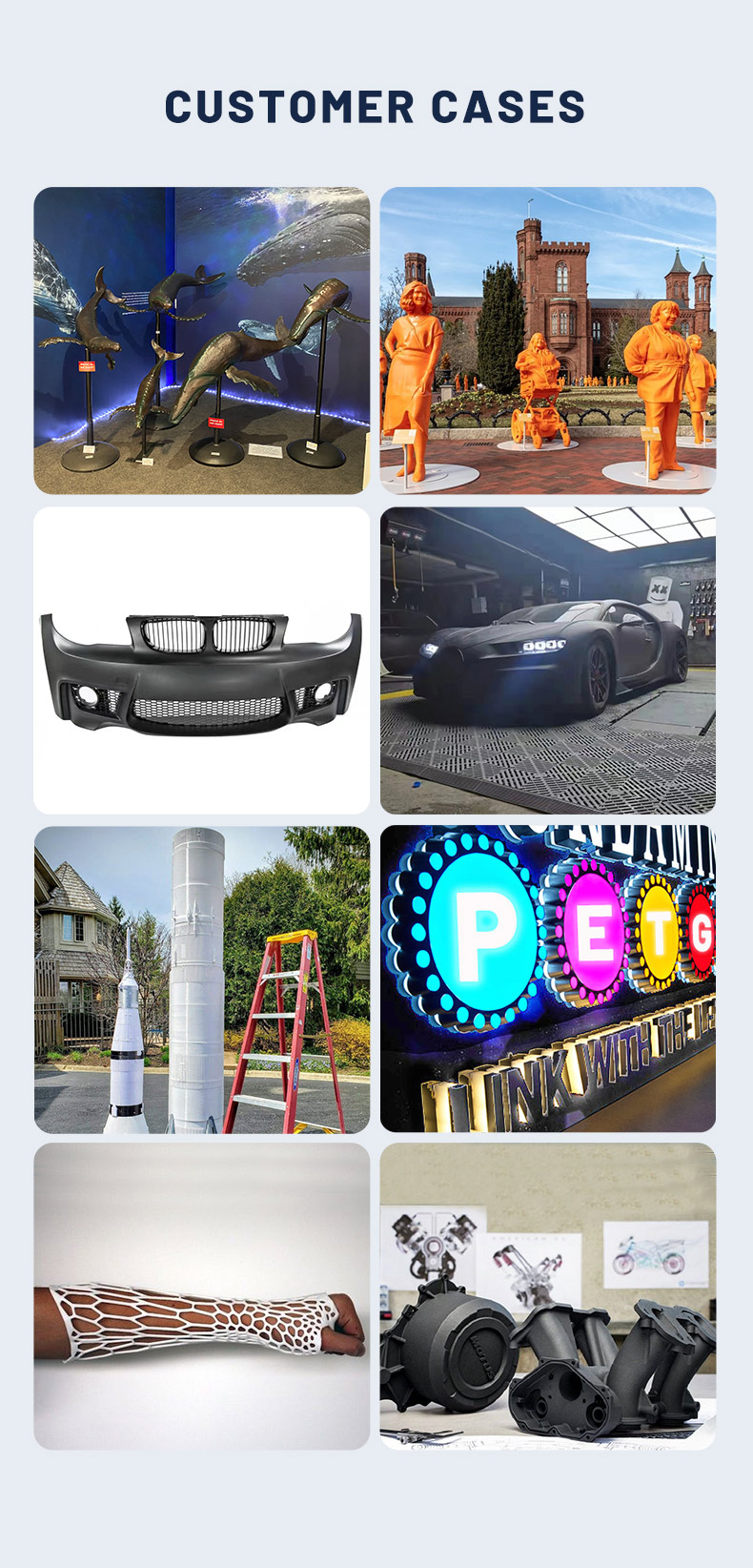 Some feedback from customers

WHY YOU CAN TRUST DOWELL 3D
CE & FCC CERTIFICATE
9 YEARS RICH EXPERIENCE ON 3D PRINTING
PROFESSIONAL R&D TEAM
DIRECTLY FACTORY ( COST SAVING)
7-10 DAYS FAST DELIVERY
LIFE-LONG TIME AFTER SALE SERVICE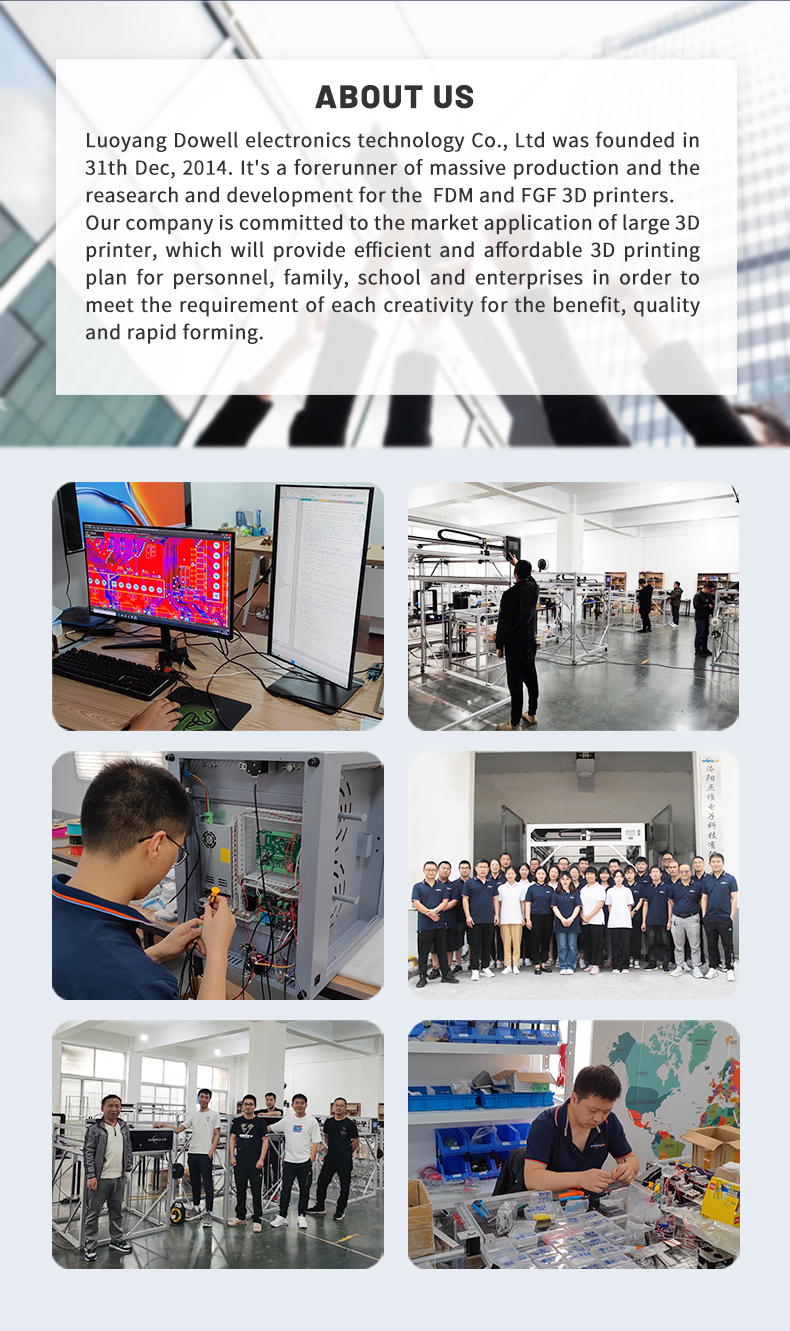 fdm 3d printer large scale 3d printer industrial 3d printer 3d printer machine