3d printer industrial with high flow rate 1600g/hour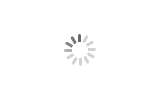 3d printer industrial with high flow rate 1600g/hour
Dowell

Luoyang, China

14 days

1000 set/month
- Variety of 3d printing size from 1000*1000*1000mm to 1600*2400*1600mm, provide customize service.
- More efficient printing, max extrusion flow volume 1600g/h
- Max nozzle temperature 420℃
- Hot bed 100℃(optional 150℃)
- 6 nozzle size
-2.85mm filament
- 3D/BL Touch auto-level
-Standard function: filament sensor, auto resume from power off, auto power off, nozzle anti-collision
-Customized options: Constant temperature enclosure
Dowell 3d Large Industrial Grade FDM DL Series 3d Printer
Luoyang Dowell electronics technology Co., Ltd was established in 31th Dec, 2014.
It's a forerunner of massive production and the research and development for large size industrial grade FDM 3D printer, FGF pellet 3D printers and channel letter 3D printer.
We committed to the market application of large size 3D printer, which will provide efficient and affordable 3D Printer and 3D printing solution for personnel, family, school and enterprises.
DL LARGE FLOW RATE Industrial 3d printer Advantages:
-Multiple large 3d printing size from 1000*1000*1000mm to 1600*2400*1600mm
-High flow rate extrusion system, 20 times larger extrusion flow rate than normal 3d printer
-LINUX system which can remote control
-420°c high temp nozzle accept more filament types
-100°c high temp heating platform. (150°c customized)
-6 nozzle size can meet different printing needs
-Noiseless driver for big 3d printing
-Auto leveling with probe
-High performance motherboard which developed by Dowell
-Brand power (MEANWELL) with good quality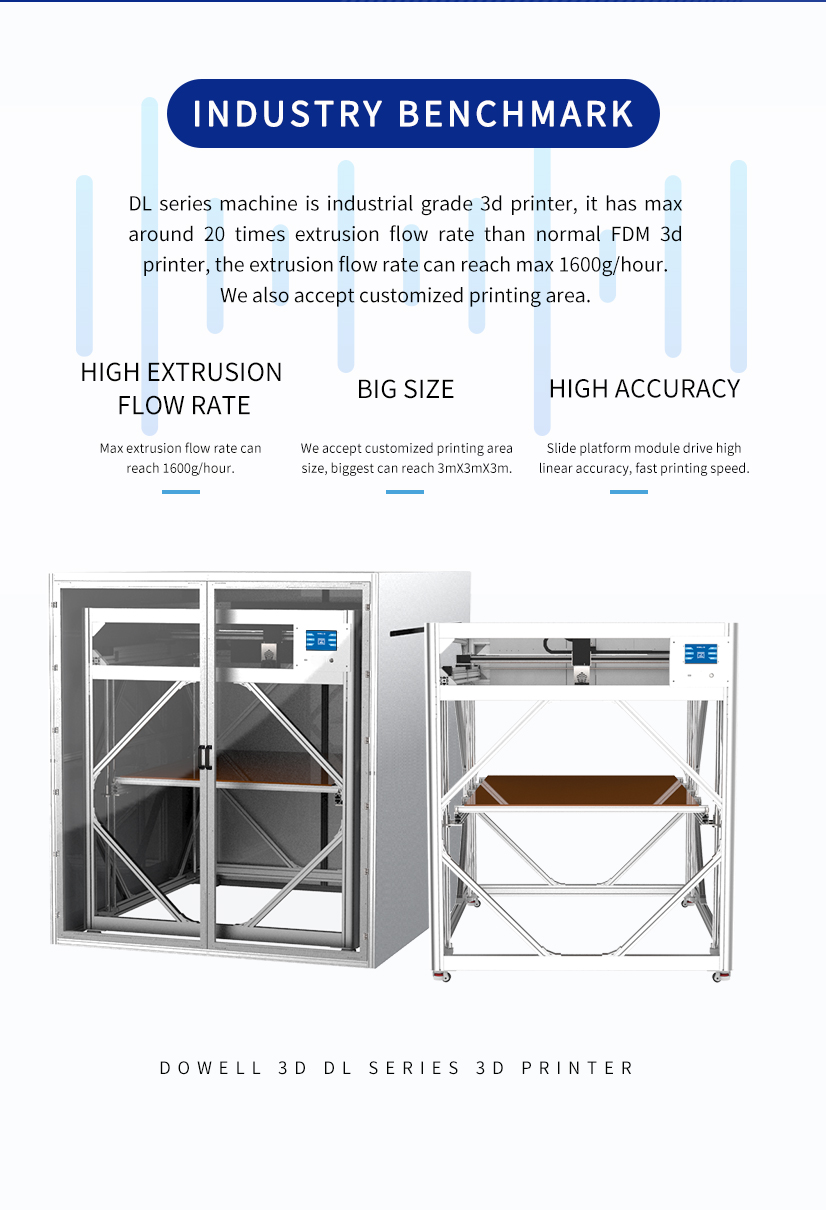 High quality aluminum alloy as the main body, spuer power capacity, stable for large 3d printing.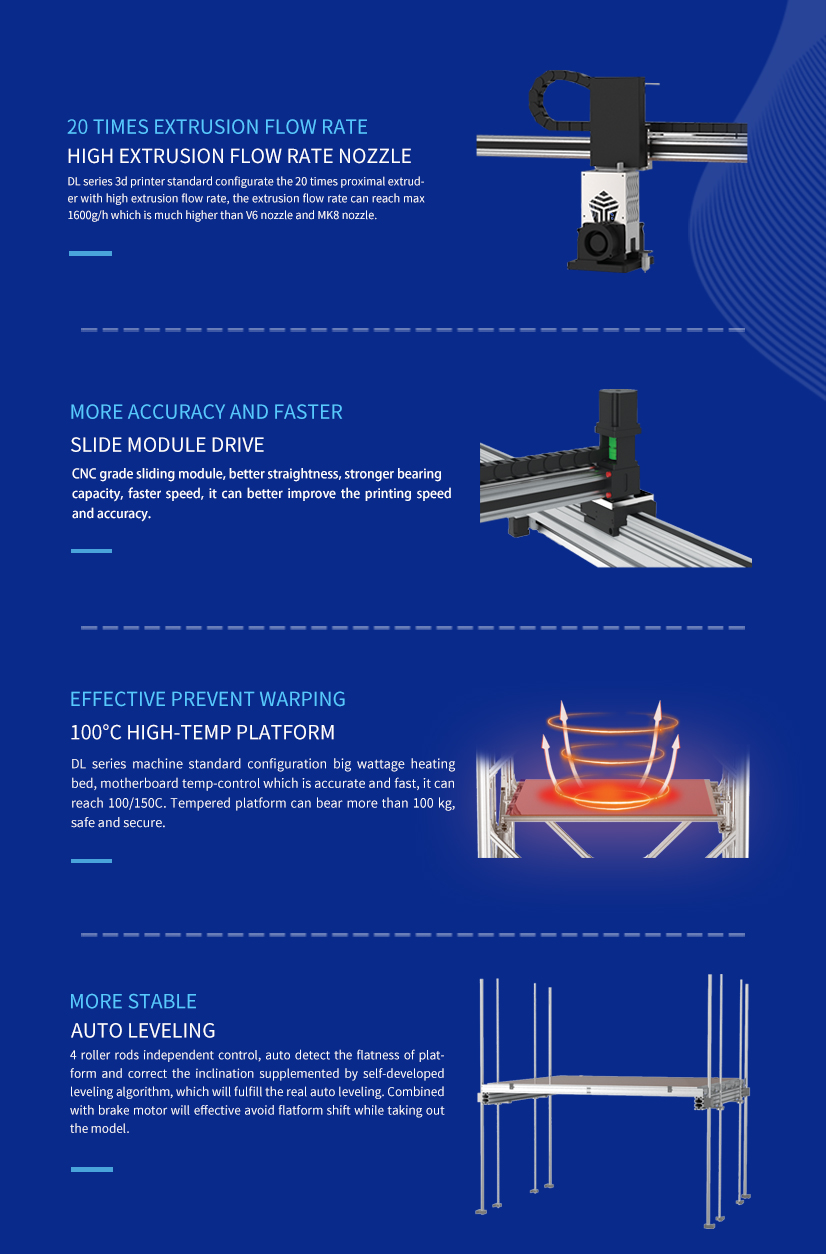 Besides standard printer model as show in below, we aslo provide custom made.
Contact us to create your own 3d printer.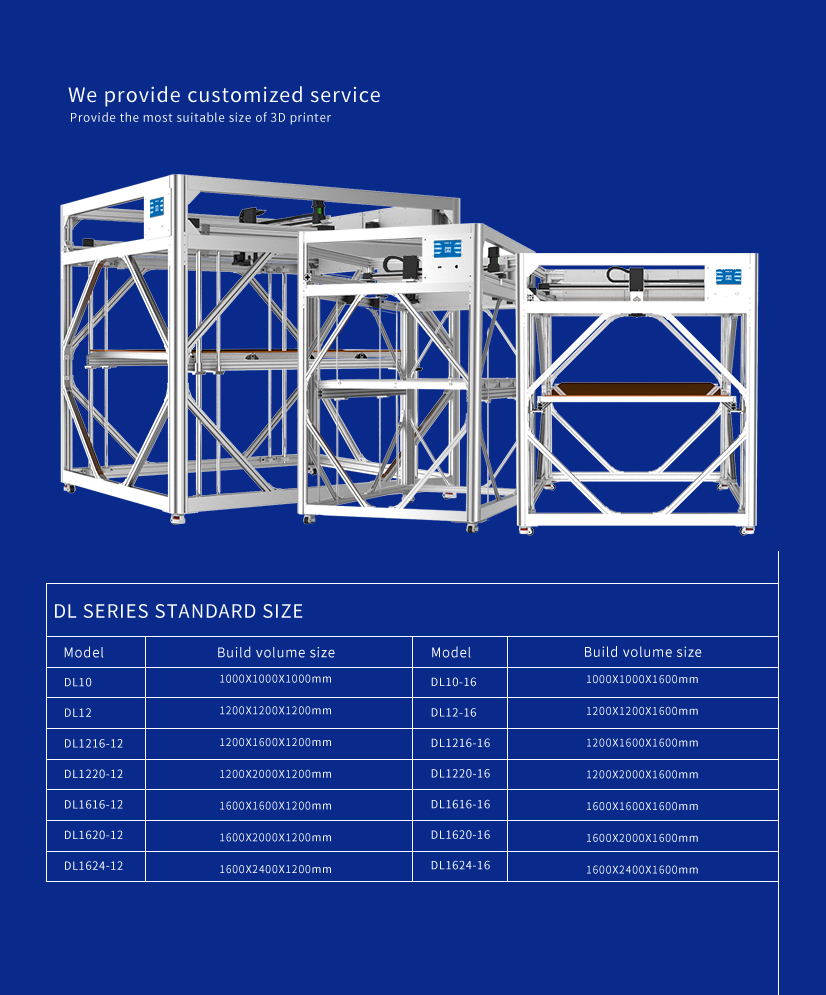 Customer cases printed by Dowell 3d printer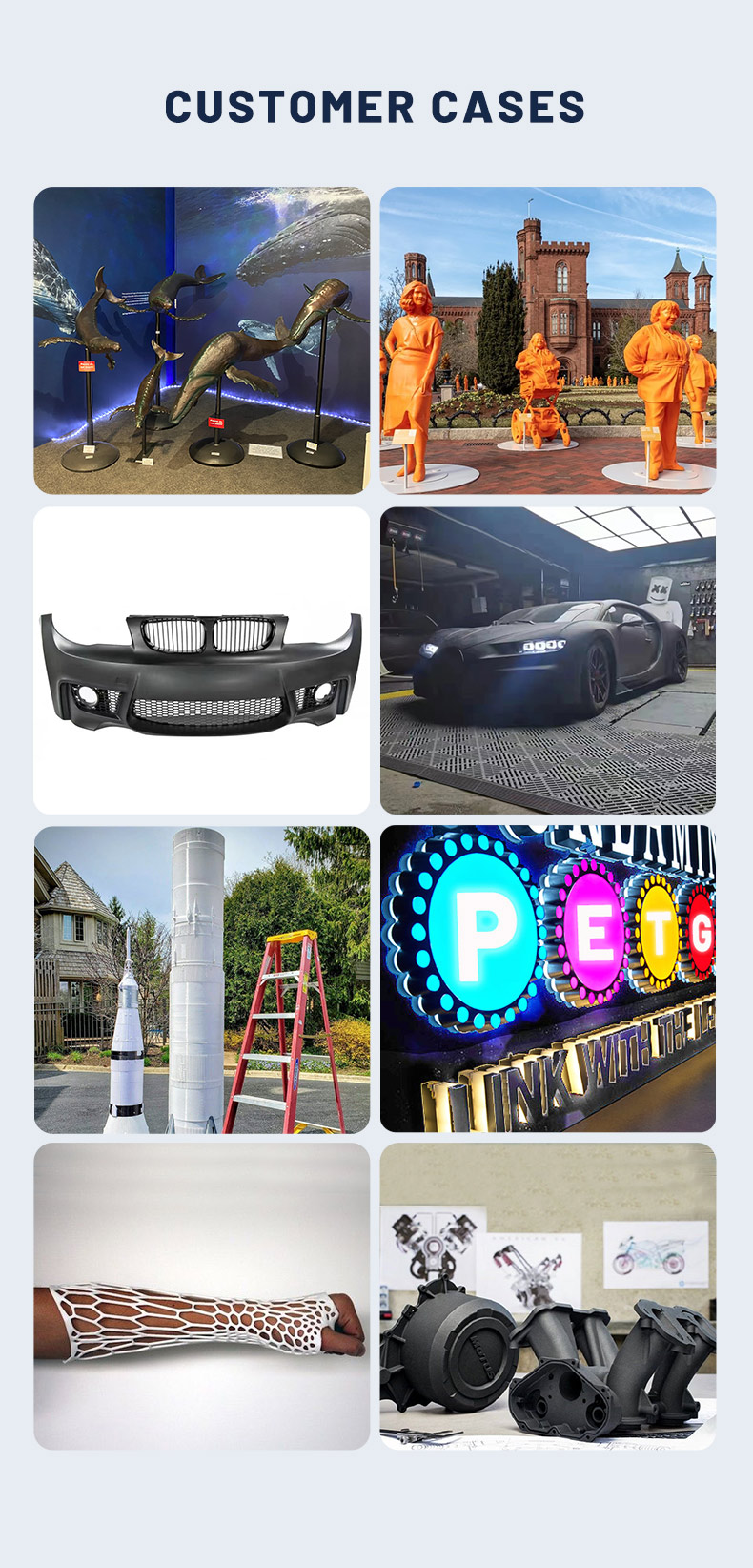 Some of feedback from customers

PARAMETER OF DL 3D PRINTING MACHINE

Frame

80mm aluminum section

Movement of X & Y axis

High speed slide module

Movement of bed

4 X screw rods & 4 X roller rods

Filament feeder

Near end

Printing bed

6mm tempered glass

Heating bed

With digital temperature controller

Bed temperature:

0-100℃ (optional 150℃ )

Nozzle size

0.4, 0.8, 1.2, 1.6, 2.0, 2.4mm

Nozzle temperature

0-420℃

Operation Interface:

7" TFT full Color

Voltage:

110V/220V

Positional accuracy:

0.02mm

Layer accuracy:

0.05-1.5mm

Extrusion flow rate:

Max 1600g/h, 360mm³/s

Slicing software:

Dowell3d / Cura / or other similar software

Input format:

STL/OBJ/Gcode/JPG

Filament diameter:

2.85mm

Connection:

USB/SD Card

Standard functions:

Auto leveling, filament sensor, auto resume from power off,

auto power off, nozzle anti-collision

Optional functions

1. Enclosure

2. Constant temperature enclosure
WHY YOU CAN TRUST DOWELL 3D

RICH EXPERIENCE ON 3D PRINTING

PROFESSIONAL R&D TEAM

DIRECTLY FACTORY ( COST SAVING)

FAST DELIVERY

LIFE-LONG TIME AFTER SALE SERVICE